How to View Your Current Plan and Signed Terms
It's important to be are aware of the Plan you are currently on and to have access to the latest agreements that you signed for cooperation with Bemakers. In this article, we will guide you through the steps to view your current plan and download the relevant agreements.
Let's get started!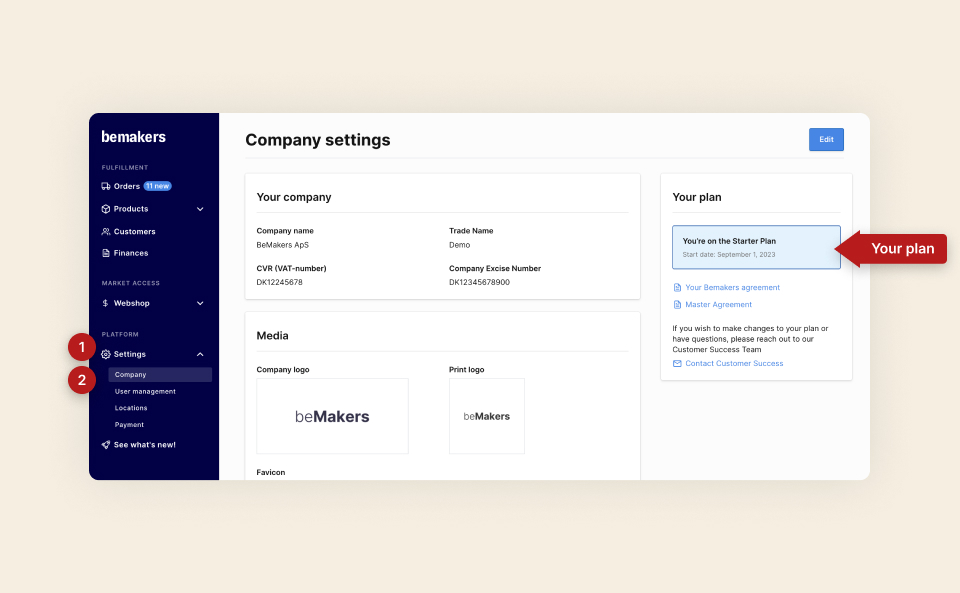 Go to the Settings
Click on Company
Look for the Your Plan card to view your current plan and its start date.
In this section, you will find all the details related to your plan.
Here, you will be able to see the your current plan and it's start date.
To access the latest agreement that you signed for cooperation with our company, you can download them
Click on Master agreement to download the document with general terms
If you use Bemakers warehouse then the Warehouse agreement document as well available for download for you
If you want to check the details of your plan, click on the Your Bemakers agreement. This will take you to a page that displays all the plan details, including any limitations or restrictions that may apply.
Please note that if you wish to make changes to your plan or have any questions, you can always reach out to our Customer Success Team
---