How do I confirm orders in the platform?
In this article we will cover how to confirm orders in the Bemakers platform.
Let's get started!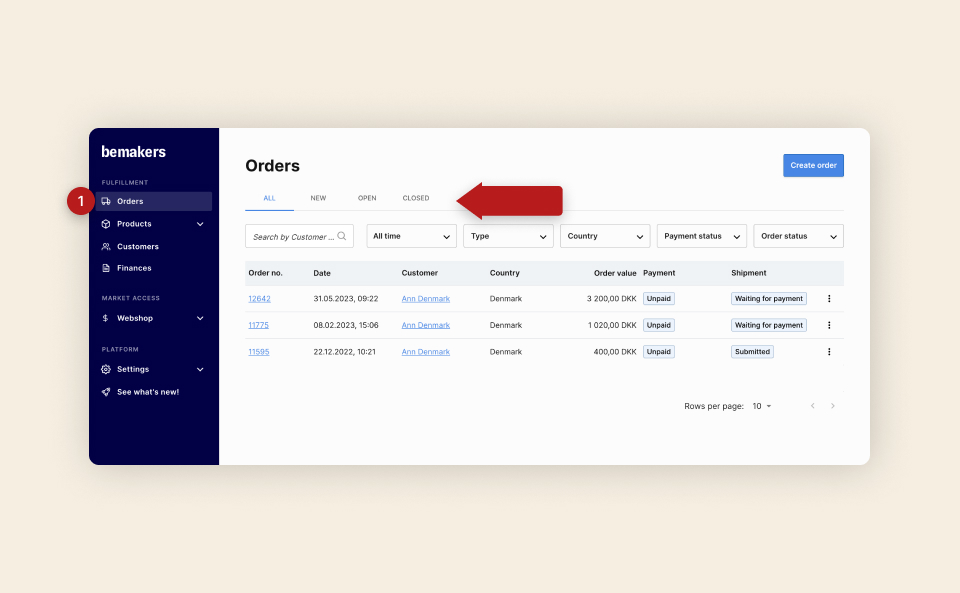 Go to the Orders
Here, you'll see several tabs, including All, New, Open, and Closed. Each tab offers you a different view of your orders:
New: Shows submitted orders that are waiting to be confirmed.
Open: Displays orders that are confirmed but are (1) in delivery/ transit or (2) not paid yet.
Closed: Shows orders that are completed, including those that have been canceled or returned.
To confirm the orders go to the New tab on the Orders page.
Then, review your orders: Check the checkbox next to the order you want to confirm. If you want to confirm all orders on the page, simply click the "Check All" icon.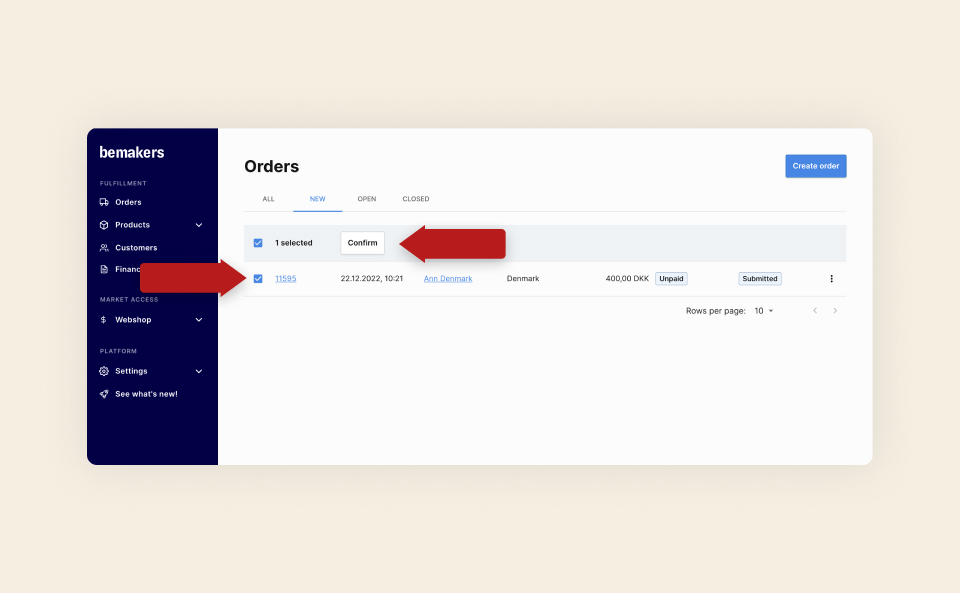 Once you've selected the order(s) you want to confirm, click on the "Confirm" button. This will bring up a pop-up window displaying the first order details, including customer and product information.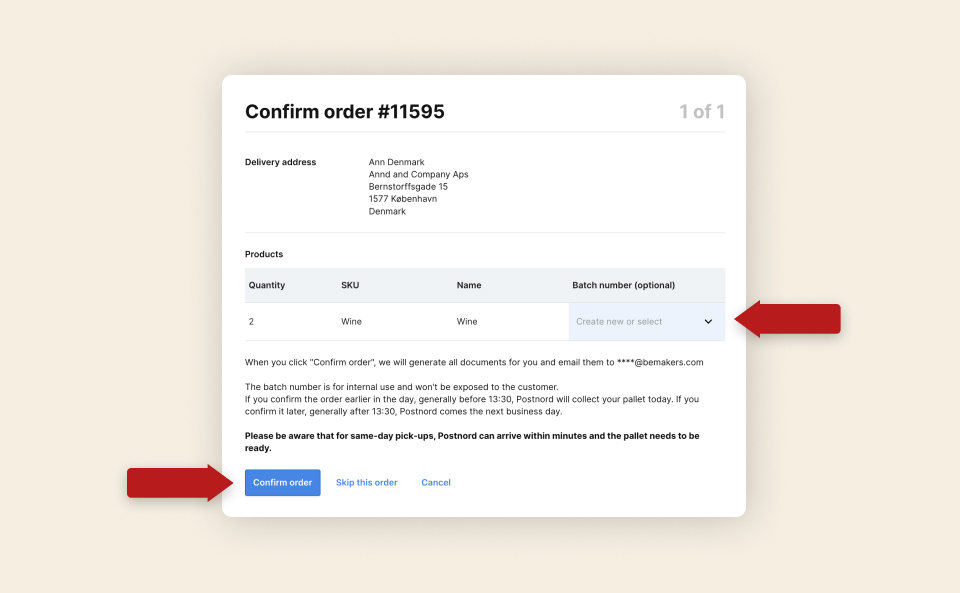 Check the order details carefully, and add batch codes for each product included in the order (if needed). If everything looks good, click the "Confirm Order" button to finalize the confirmation of the first order
Repeat the process for all the orders you chose to confirm.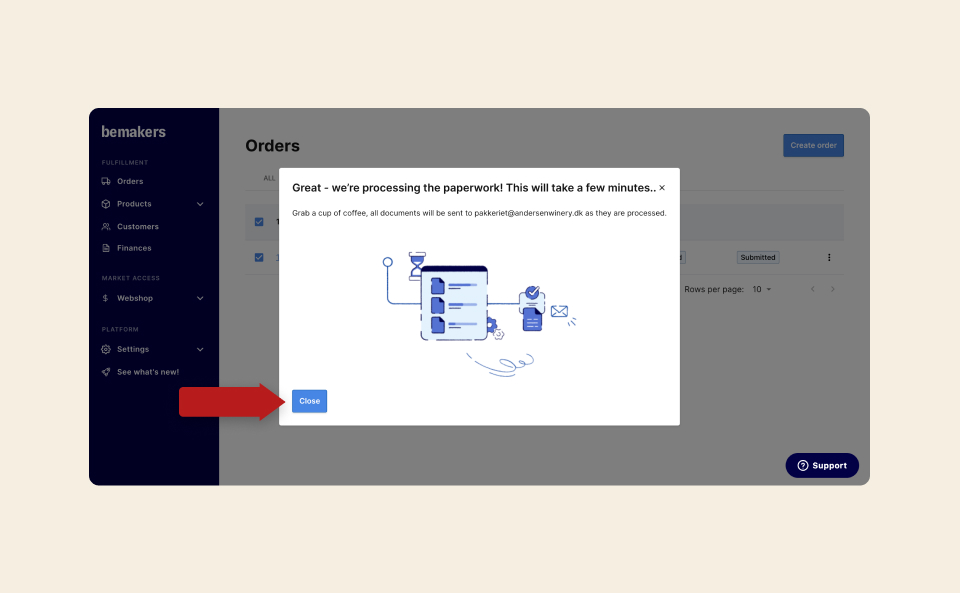 As the last order is confirmed, the platform will process the necessary paperwork. This may take a few minutes.
Click on the "Close" button.
You will see that on the New tab the orders that you have confirmed are longer displayed. To view your confirmed orders, go to the Open tab on the Orders page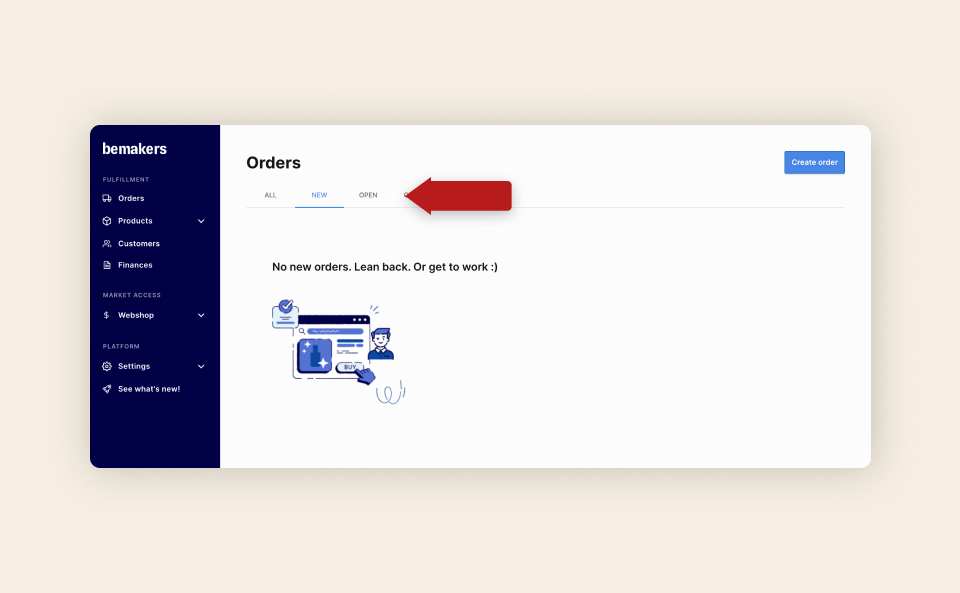 Print Order Documents: To print the necessary documents for your orders, check your email inbox. All the documents for your confirmed orders should be there already. Print them as before, and you're ready to ship the orders!
Alternatively, you can also download the combined document for the order on the Bemakers platform by following these steps:
Go to the Open tab.

Look for the three dots option near needed order and click on it.

From the options that appear, select the option to Download All documents.
This will provide you with another way to access and print the necessary documents for your orders.
---