How to create collection for your webshop
In this article, we will cover what collections are and how to create them in Bemakers.
Let's get started!
What are collections?
Collections are product pages you can add to your storefront. This means if you have different categories of products or special lines.
In order to create a functional webshop, you will need to have at least one collection. This collection will serve as the homepage of your webshop, providing your customers with an overview of the products that you offer. From there, you can create additional collections to categorize your products and make it easier for your customers to find what they're looking for. So, be sure to create your first collection


How to create a collection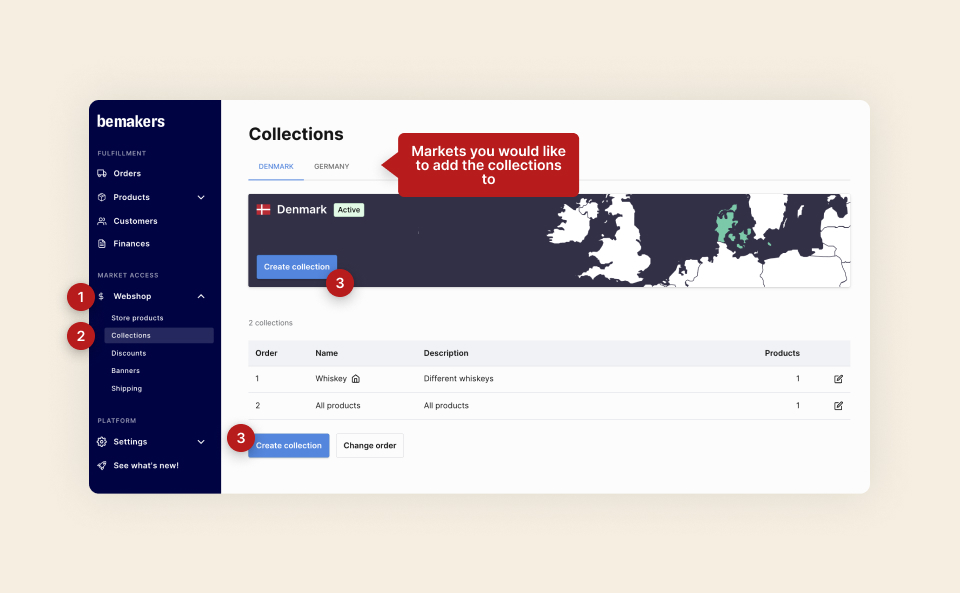 Go to Webshop.
Select Collections.
Select the market you would like the collection to be in and click Create collection.
Once on the collection page, you will have the chance to name the collection and add a description and products.
Collection name: here is the name of the pages (categories) you would like to have on your webshop.

Description: This is optional, but if you would like to introduce the page, you can add a text description to your page.

Add products: When you create your first collection, you won't be able to add any products. However, when you have already added products to the webshop, you can allocate the product to specific collections.
Add Social media image Make sure your image is at least 1200px by 630px.
Promotional banner To display a banner on a specific collection page, you'll need to select the one of active banner of the webshop. Simply click on the desired banner and a preview of it will be displayed. If you don't want the banner to appear on this collection page, you can select the 'No banner' option.
Remember to Save and Publish
---