How to use the VAT Calculator on the Bemakers Platform
This comprehensive guide will walk you through the steps of finding and using the VAT calculator on the Bemakers Platform. This calculator enables you to effortlessly determine the price without VAT based on the price you entered incl. VAT.
Let's get started!
Go to Products.
Select the product type that you want to create - Beverage, Bundle, Extra.
Proceed to the Pricing step by following the prompts.
Using the VAT Calculator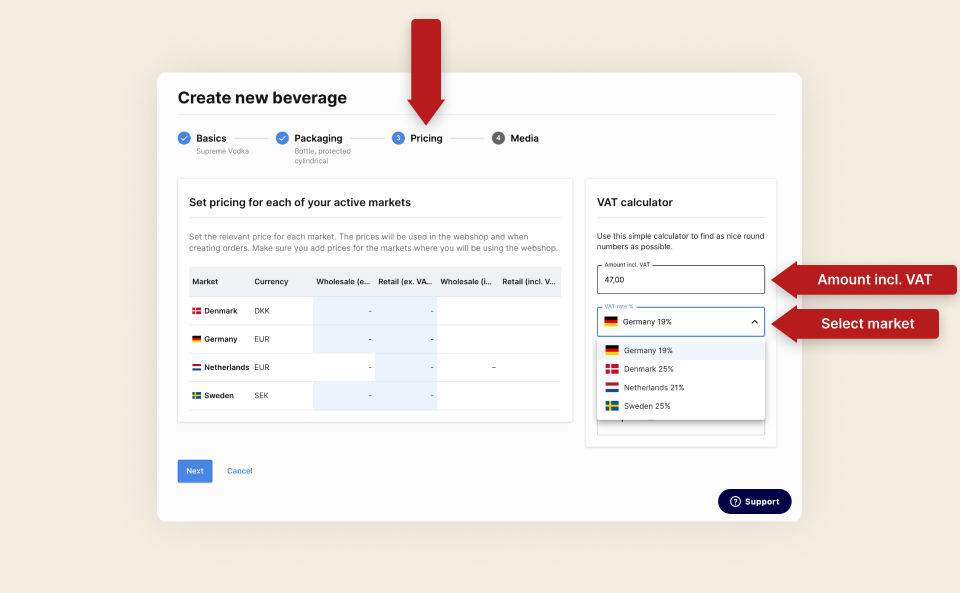 Upon reaching the Pricing step, you'll notice the VAT calculator prominently displayed.
Locate the input field labeled Amount incl. VAT and enter the price of your product, considering the VAT amount. Select the market for which you are trying to get the price excluding VAT.
As soon as you input the price, the VAT calculator will perform automatic calculations.
The calculator will display the price without VAT, rounded to two decimal places, based on the price you entered.
Additionally, it will calculate the price with VAT using the calculated price without VAT for accurate comparison.
Handling Price Mismatch
In case the calculated price with VAT matches the price you entered, the VAT calculator will display this single option.
If there is a discrepancy between the calculated price with VAT and your input, the calculator will present two options.
Let's consider an example: Suppose you entered 47 Euro for Germany. Based on the calculations, the price without VAT might be 39.49 Euro, and the price with VAT will be displayed as (46.99 Euro).
In such a scenario, the VAT calculator will show two options: 39.49 Euro(46.99 Euro) and 39.50 Euro(47.01 Euro).
It's now up to you to choose the desired price by clicking on the corresponding option.
Once you have selected the preferred price, you can simply copy it and paste to the retail price cell for Germany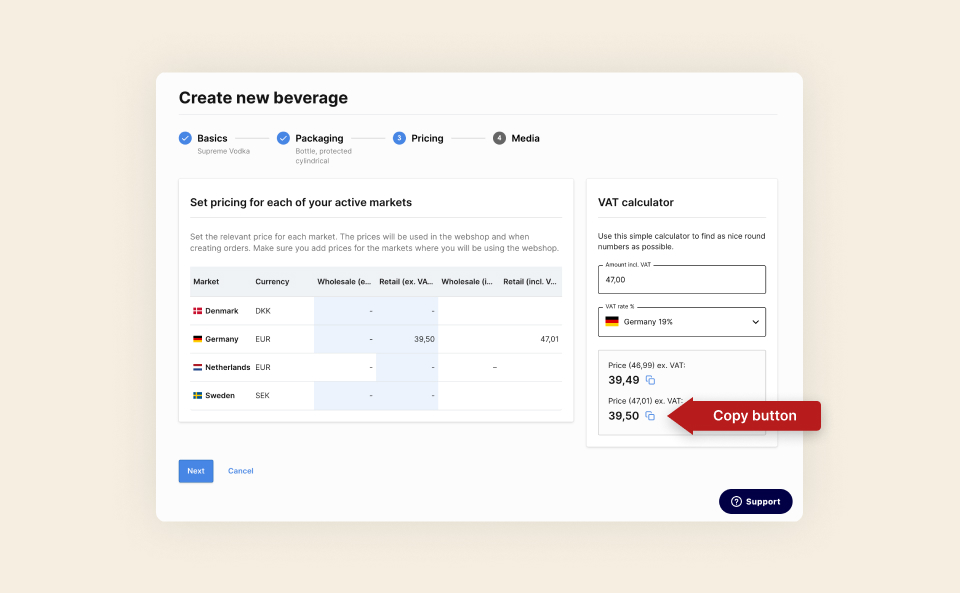 ---